The short answer is YES!
Now let me explain to you why they do.
Regardless of the mistaken belief that continues to endure, introverts make great business owners and great leaders. They may not be as outspoken as their extroverted counterparts, they might not seek the stage or lots of attention all the times, yet they still make great leaders.
Now labelling someone as an introvert doesn't mean you sit nicely in a box. In fact what is says is you have certain traits that you call upon from time to time. Introverts gain their energy from within, from being alone, and often in nature. This fact often means they spend time in their head. These traits vary from topic to topic and time of day. 
Relating to leadership, the first point, one which I believe is key to their success is that introverts are excellent listeners. This means they take the time to listen, then process information before weighing in with their own opinion. This sometimes frustrates others in that they don't have an answer straight away, yet what comes out in the end, is something far better than if it came out immediately. Thinking before speaking means make informed statements and increase your credibility, ensuring the likelihood of hurting someone by 'putting your foot in your mouth' is reduced. Introverts don't speak from the hip, they consider and tend to choose their words wisely and authentically.
Another important point is they are observant. Research shows that introverts are "more likely to notice people's body language and facial expressions." This is central to emotional intelligence, and leading your team.
Introverts tend to share credit for a job well done. The team of an introvert will generally appreciate their leader as they highlight the strength of the whole group.
"It's a team effort", "I couldn't have done it without my team" are some of the comments I hear.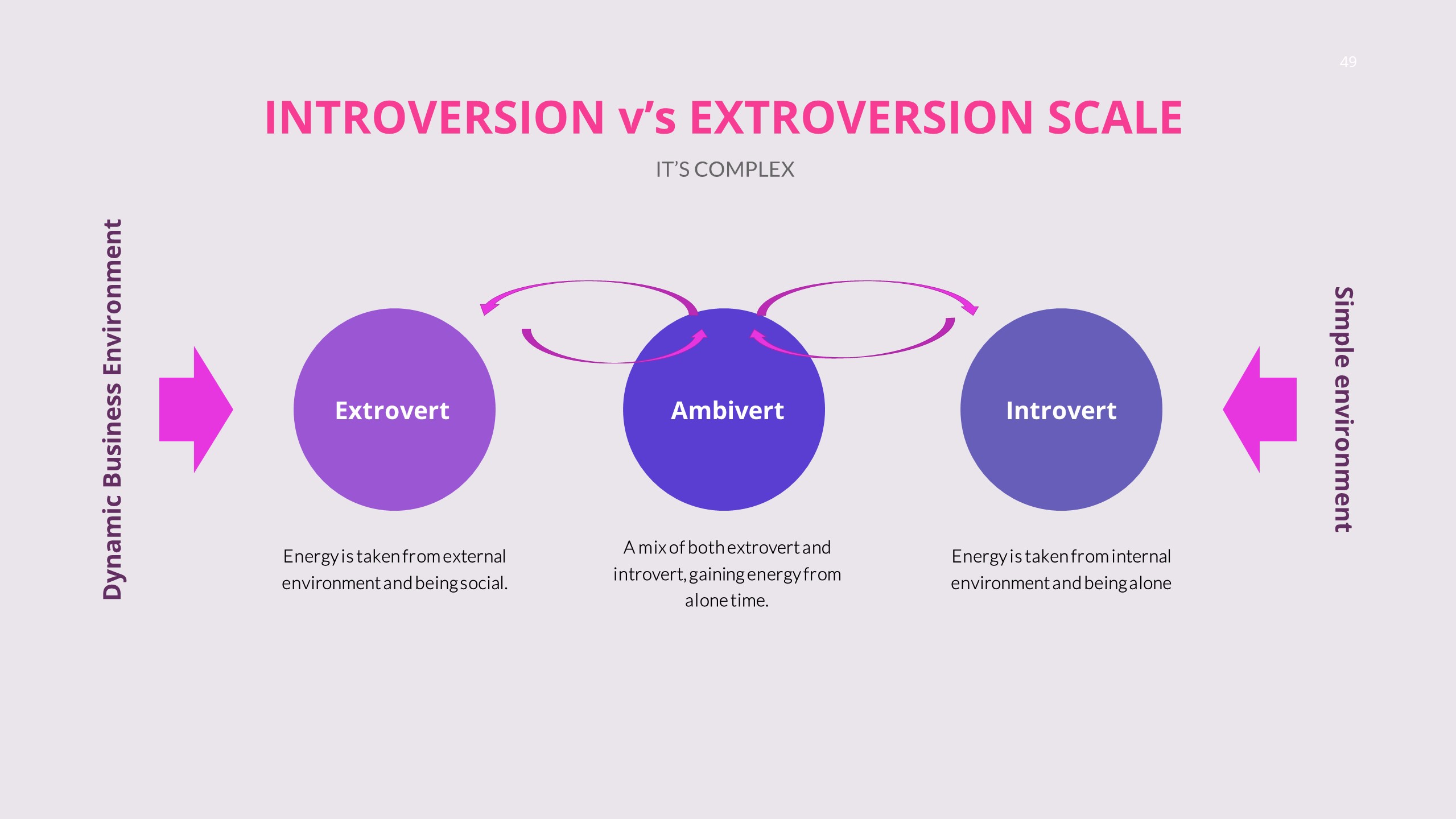 Being an introvert can be complex and there are times when as a business owner they just have to "step up".
Many people, especially business owners, are introverts who have managed to adapt. Over time, they develop more balanced personalities. They become what has been termed as "ambiverts" where they exhibit extroversion and introversion, depending on the situation. In the diagram you can see how this could look graphically. Sometimes an introvert wants to be alone, other times they are ready to move into the space of being an extrovert.
Now I must say an introvert can also vary on the scale of being sociable and being anxious in front of others. We all are unique after all, and take with us so much from our past, our beliefs and environment. Sometimes we have learned that to enable efficiencies we need to step into being an extravert, connecting with others; team or stakeholders, and then when we can, we step back into gaining our energy from being alone. Introversion is a collection of strengths and weaknesses, and extroversion is, too; so you'll need a blend of both if you want your business to perform its best.
So some introverts are able to network effectively. Rather than moving around the room quickly and meeting as many people as possible, an introvert build quality relationships, and tend to focus on learning about the people they meet, rather than making small talk. They get their energy from these introverted activities, such as reading, writing, researching, and planning. Extroverts, however, thrive in larger social activities, talking to others, attending conferences, and speaking out, and feeding off the energy of others. When an introvert feels overwhelmed by too much socialising, they need a little solitude to recharge. Unfortunately, people sometimes misinterpret this desire to be alone as a negative emotion, such as being angry, depressed, sullen, or anxious.
For us introverts we see this as our super power, being able to step into and out of being an introvert when the situation needs. Self-awareness is key, knowing when you are needing which every strategy.
I've put together a FREE guide on 7 great habits for leaders, that I know introverts will love. You can download it here: