Professional Me 
Leadership Coaching starts from the inside and working outwards. I believe from personal experience of being an introvert, that leadership starts within. As a human and business coach I'm here to say that I am not an enigma that has never had struggles. As a senior workplace leader, and especially when I started my own business I became stuck, frustrated and sabotaged myself. It wasn't until I took on a coach that I realised I was my own worst enemy and that was stopping me from moving forward. After many years of struggling with self-doubt, I discovered that the secret to my business success (and everything else in life) is in your mind. After that revelation, and shifting some key beliefs and emotional baggage, I have moved forward in leaps and bounds.
I know firsthand the struggle of getting in front of your right client, and the emotional pain that comes from not getting results. I turned my business and my mindset around through being coached, (and from my horses) and am passionate about helping you too. My methods will radically evolve your business and supercharge your results. In my online courses & face to face business and leadership coaching you will discover and break through your mental blocks, implement systems for autopilot, to achieve results, so that you too can finally reach your business goals.
Merinda and her team acknowledge the Traditional Owners of Country throughout Australia and recognise the continuing connection to lands, waters and community. We pay respects to our Aboriginal and Torres Straight Islander cultures; and to Elders past, present and emerging.
My Vision
I WORK FROM THE INSIDE OUT. Since my own life transformation, I've dedicated over 10 years of my life to learning and practicing coaching techniques: Neuro-Linguistic Programming, Time-Line & Hypnosis Therapy, Equine Assisted learning, mBit (Heart, Gut and Mind therapy), Entrepreneurial Mindset Profile® (EMP) facilitator, along with other modalities. So putting all of those together I am there to help you with your challenges, so you can create change in your life. As I whole heartedly believe that leadership starts from within I personally practice all of them every day, to ensure I am my best self. In my coaching work from the inside out rather than the outside in.
My Values
INTEGRITY, AUTHENTICITY, GRATITUDE & SELF-COMPASSION are my vaules. In an internet full of self-proclaimed overnight "expert" coaches, I actually am one. My learning never stops, I'm am certified as a coach, and experienced in leadership, and business. The proof comes from the results of 100s of my clients from starting a business, personal success and business growth. Through my extensive experience I can facilitate the best change that is right for you. If for any reason I feel that I'm not the best person to help you, I'll refer you straight on to one of my colleagues to get the exact help you need.
Personal Me
I'M A MUM, A HORSE RIDER AND CREATIVE. Basically, I'm a regular person. I have fun hobbies like horse riding, scuba diving, welding rusty metal art, sailing, or creating on the sewing machine or having fun with colour and paints. I have been with my husband (who I met scuba diving) for over 20 years. I know the ups and downs of being the key money earner, working from home with a young child, family life, and wanting to get horses fit & ready for competition. I have seen and fully lived the different chapters of my life so far, and am at peace with it all. I am not here to judge you, I am here to help, and guide you to greatness. You can feel confident and safe knowing you're in good hands.
My Mission
My mission is to support you to be your best self. When I work with action takers, who take responsibility we make huge changes for the better. I GUARANTEE YOU'LL LOVE YOUR EXPERIENCE. If for any reason you are unsatisfied with your experience with any of my programs, or training, after giving it a go, and putting in the effort to make the change, just let me know and I'll do what I can to make it right. My mission is to help you make change in your life. I'm so sure my systems and experiences work I offer a satisfaction guarantee. I back all my programs 100%. Of course fair use applies here too. You need to be willing to commit to the process, take action and follow the guidance to get results.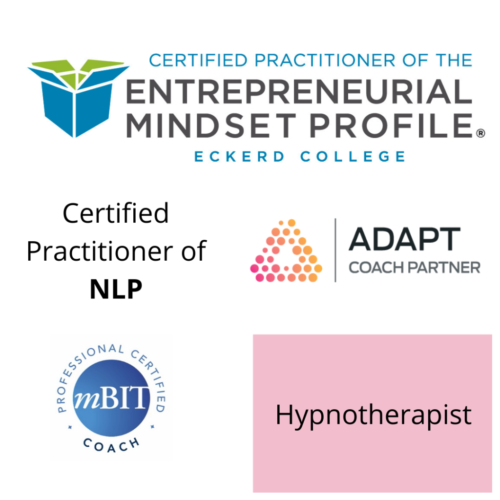 My Learnings
I'm a certified Online Business Consultant and Energy Clearing Practitioner. I love learning about the mind, communication and the art of learning. I learn to help others grow, and along the way I also grow. In business I especially enjoy working with leaders and their teams, the dynamics and then seeing potential come to life. Being curious and having real conversations that teams need to have so that they can overcome the blockages stopping them from moving forward. My formal qualifications include: • The Neuroscience Academy course in Applied Neuroscience and Brain Health • NLP Practitioner • Timeline Therapist • Certified mBit Coach • Hypnotherapist • Entrepreneur Mindset Profile facilitator • Equine Assisted learning facilitator • Diploma of Training and Assessment • Diploma of Quality Auditing • Graduate Diploma of Adult Language Literacy & Numeracy Practise • Diploma of Business (Management & Leadership) • Diploma Occupational Health and Safety • Graduate Certificate of Business