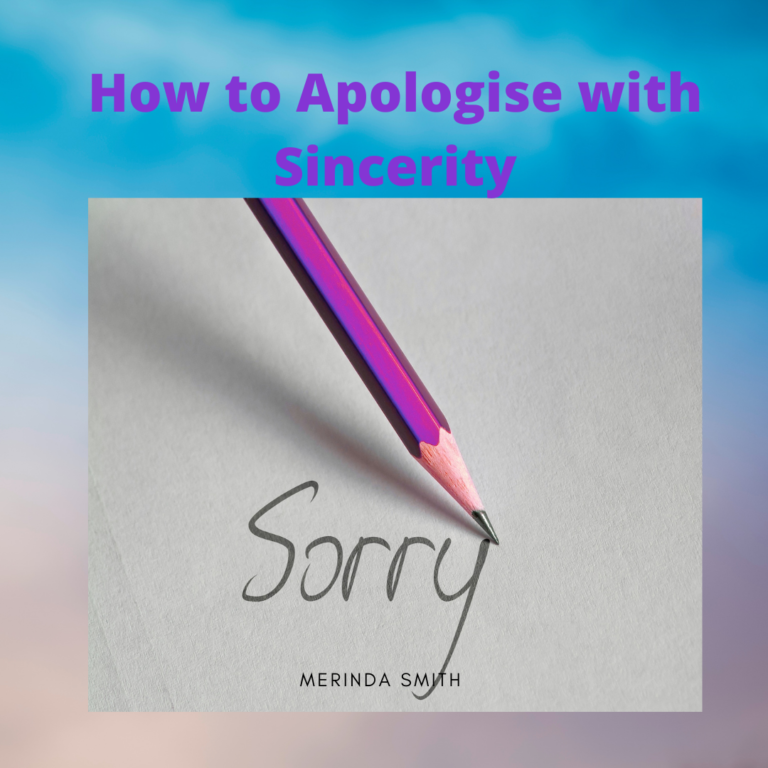 As a leader in business it is important we accept that mistakes happen. To build a strong culture within your team you need to know how to apologise effectively and with sincerity. We all make mistakes, and sometimes hurt people through our intentional or by accident behaviour – words or actions. When we are aware of this we need to make amends, and an apology is one of the best ways. Good people sometimes behave badly.
However, it isn't always easy to say you're sorry, even though it's the best way to restore trust when something has gone wrong. A sincere apology does a world of good for both the giver and the receiver. We are however terrible at apologising because it can allow us to feel bad about ourselves, and we naturally don't want that to happen.
The act of apologising allows you to:
Learn from your mistakes and find new ways of dealing with difficult situations.
Acknowledge that you were wrong.
Open up a line of communication with the other person.
Discuss what is allowed and not allowed in your relationship (work or personal).
Express your regret and remorse.
Be vulnerable, and Set boundaries
It can be toxic. Failing to apologise effectively can be toxic to workplace and other relationships. We tend to resent and dislike
Why apologising is good for you and others around you.  
It can be toxic. Failing to apologise effectively can be toxic to workplace and other relationships. We tend to resent and dislike people who can't own up to their mistakes. Those who always deflect the blame are challenging to get along with and not good in the team.  
Deal with remorse constructively. Extending an apology helps you take responsibility for your actions and hold yourself accountable. It creates growth through your positive actions and you free yourself from the guilt that may follow lapses in judgment.
Improve your future conduct. By reflecting on your actions and sharing your experience with another person, you make a deep impression in your mind. This motivation will help you resolve to do better the next time you're in a similar situation. When you strive to improve your behaviour in the future, what you're doing is bigger than just an apology; it's an amends.
Mitigate the harm you may have done. Just by hearing an apology, the person you wronged is likely to start feeling better. It's a natural reaction – when we know that someone feels sorry for their negative effects on us because they value us and care about how we feel, we enjoy significant relief and a reduction in anger.
Encourage forgiveness. We all need to be forgiven from time to time throughout our lives. Apologies and amends help to speed the process along. Studies show that receiving an apology helps people feel less threatened. We develop more compassion and find mistakes easier to forgive. It creates a better working environment. 
Maintain healthy relationships. Conflicts are inevitable, but you can promote healing. Apologising and forgiving creates an atmosphere of mutual respect, trust, and cooperation.
Tips for Delivering a Sincere Apology  
Say you're sorry. Not, "I'm sorry, but . . .", "I'm really sorry you had to eat alone" is much better. It shows you're not trying to avoid a discussion of what you did wrong.
Own your actions. Reflect on your actions and how they affected the other person. If the situation is emotionally charged, take time to calm down in a neutral setting. Talk with others if you need some objective input. Feel good about your courage in facing the facts head on. Then when you are ready show the other person that you're willing to take responsibility for your actions.
Express your regret. After you have clearly stated that you take full responsibility for your conduct, acknowledge the impact you had on the other person. The wronged person needs to know that you understand what happened and why it was hurtful to them. Make sure you remain focused on your role rather than deflecting the blame. "I wish I could take it back.", "I wish I had thought it through more.", "I wish I'd thought of your feelings as well."
Listen to the other person. Don't make assumptions. Be open to however the other person decides to respond. Asking them to share more of their feelings will make them realize that you genuinely want to connect and understand their perspective. This gives you a chance to correct any assumptions that your action may have led the other party to make.
Give empathy. Try to understand the other person perspective and acknowledge their feelings. For Example: "I really get how upset you are that I didn't remember to text you I couldn't make the meeting arrangements we had made. I was wrong, and it was unprofessional of me, and I get that you thought I was thoughtless and selfish."
Decide on the change. Come up with a plan to address this situation in the future so it doesn't happen again. Let them know how you intend to fix the situation.
Propose a constructive remedy. Be prepared to state what you're willing to do to right the wrong. It will demonstrate that you're serious. Give the other person a chance to propose what they need so you can work together to patch things up. This turns your apology into an amends.

Ask for forgiveness.

It shows you are vulnerable, and also that you mean what you said. Be mindful that they are not always willing to make amends right then and there. That is OK. Let them have time. Sometimes you'll enjoy an immediate reconciliation. But be patient if the other person needs more time.
You can't make their feelings happen, or what they think, what you can do is own your part in the issue. This is healthy, and it confirms your own boundaries. Accepting when you are wrong, and taking the blame for your mistakes is an opportunity for learning and growth.
 Apologise in person. Your apology carries more weight when you make it in person than if you just text or e-mail it. Face-to-face discussions also help avoid compounding potential misunderstandings.
Apologise promptly. It's easier to untangle a knot while it's still fresh. A prompt confession can prevent resentments and nasty gossip from building.
Evaluate any feelings of humiliation. Do you feel that saying you're sorry is a sign of weakness? Actually, it takes great courage and wisdom to face unpleasant realities and communicate openly. Rejoice in the knowledge that you're making life better for you and those you love.
Know when you need help. If you're asking forgiveness for the same thing over and over, it may be a sign that you need help to make lasting changes. Speak to your Supervisor, or a Counsellor or support group. Maybe there is something deeper that needs help outside of this article.
Know that understanding the importance of forgiveness can help you and your team tremendously. It can resolve conflicts and allow each person to lead a more fulfilling life. Use these techniques to make your apologies more sincere and effective.
Wish to receive more leadership tips? - SIGN UP
If you are keen to learn more as a leader and wish to know more about how Merinda works with her clients, then she offers a free 30 minute call.
Alternatively check out her latest